Zellis are an award-winning payroll and HR solutions platform delivering great experiences for employees. We helped them to redefine their brand strategy and creative identity positioning within their industry.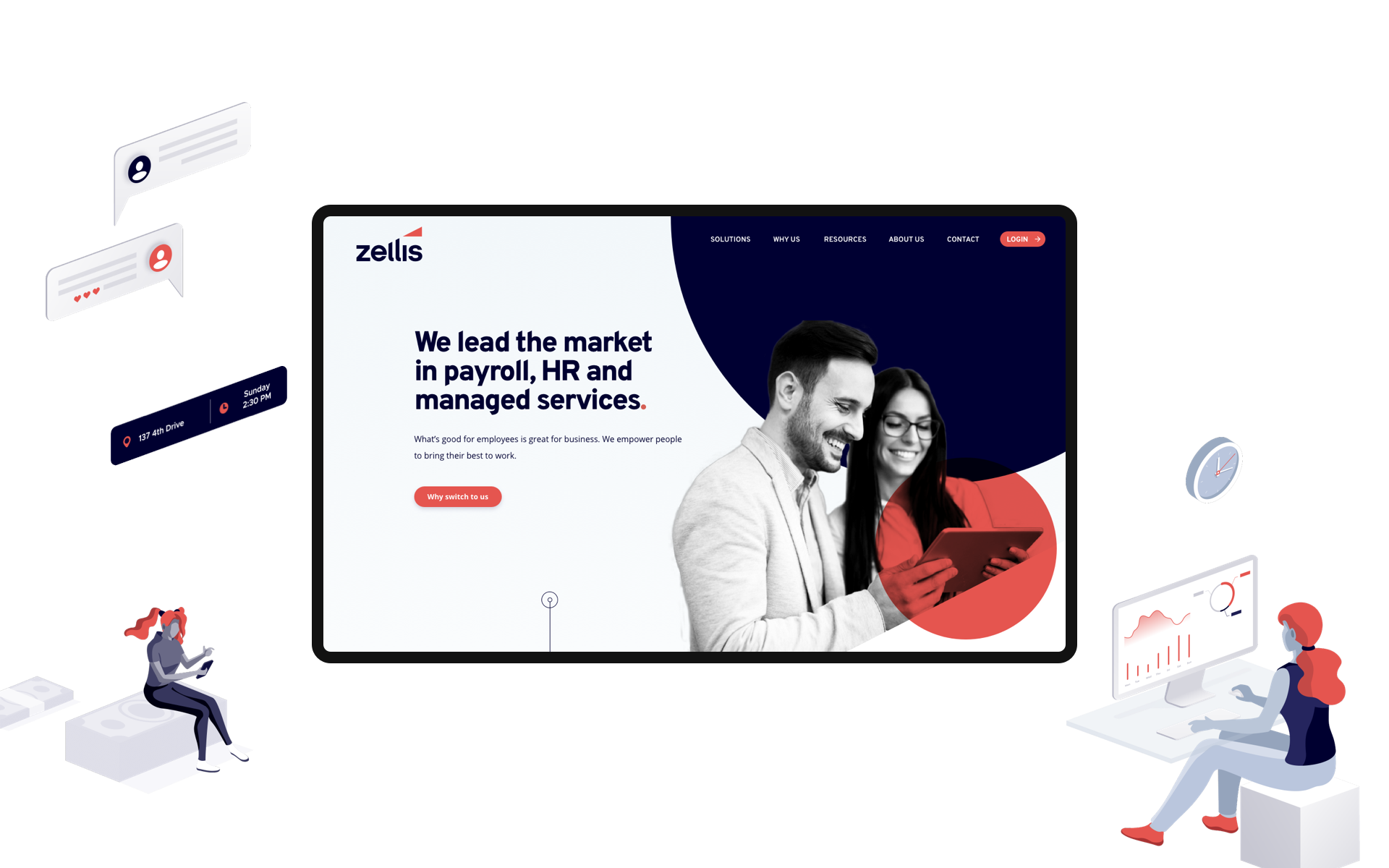 We invited various employee's of Zellis to join our discovery workshop which gave us insights into their perspectives of the brand, what the brand means to them and their interpretation. Upon coming to a close, we concluded that from the information and insights gained, we landed on three potential brand routes. These routes are themed and have different directions in terms of creative meaning.
After gaining those insights from the workshop, we started to creatively explore these three routes. Performance, Openness and Joy.
At this phase of the project, we experimented with different ideas that tied in to the core meaning of a particular route. Each route had a specific theme and traits in order to test against users, with a clear distinction between them.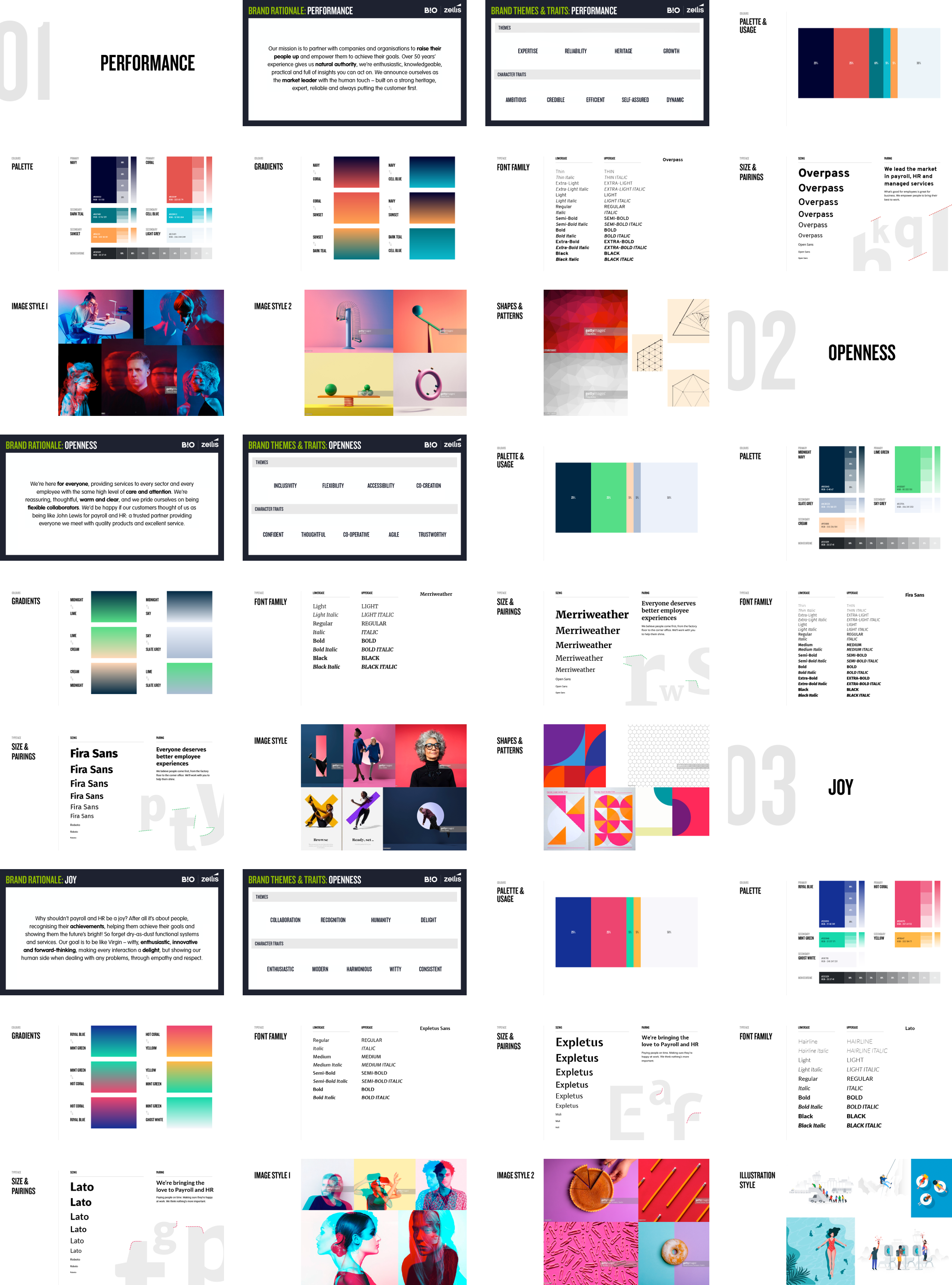 We presented the three defined routes to Zellis, explaining how we were going to use the foundational creative elements and bring them to life, in home page form for user testing purposes. This is so users can contextually digest the overall creative direction.
The audience for testing these routes, were professionals within the HR and Payroll industries who either had lots experience with using platforms like Zellis, or little experience. People who were in management and also others who were in different industries.
This helped give us get an unbiased perception of the brand and well rounded views on perceptions of each route. We asked the users to achieve specific navigational tasks, how the overall design made them feel, what they thought about the brand, etc.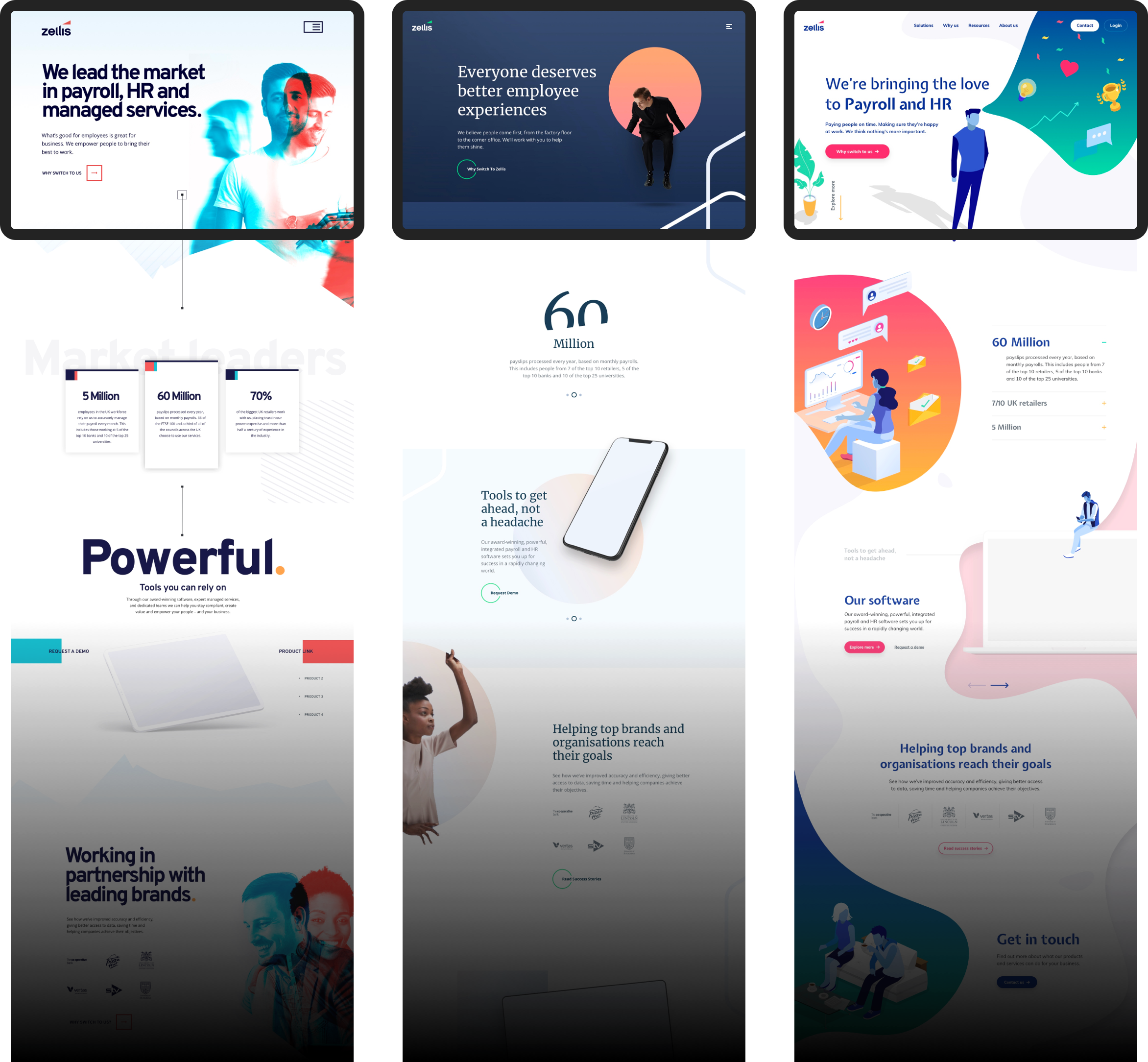 Refined creative direction

After compiling user testing feedback and analysing information from those sessions, we identified which areas were performing well and which areas were pain points, or just didn't communicate or land with the user how we might of expected.
We agreed with Zellis for specific creative elements and approaches to be merged into a final route, from which further creative execution could happen. We then started to look at how we could craft a design system around the finalised route and visualise deliverables.

After completing the first phase of work in this project, we then began to build out a design system from the defined creative approach. This would evolve over time as the brand grows and become the source of truth with all creative outputs and implementation.
We educated and guided Zellis through what a design system is and why it is vital as a business to have these solid foundations in place to centre their brand vision from. As you can see, we got in-depth into a systematic approach with the elements, with the intention of an atomic design approach.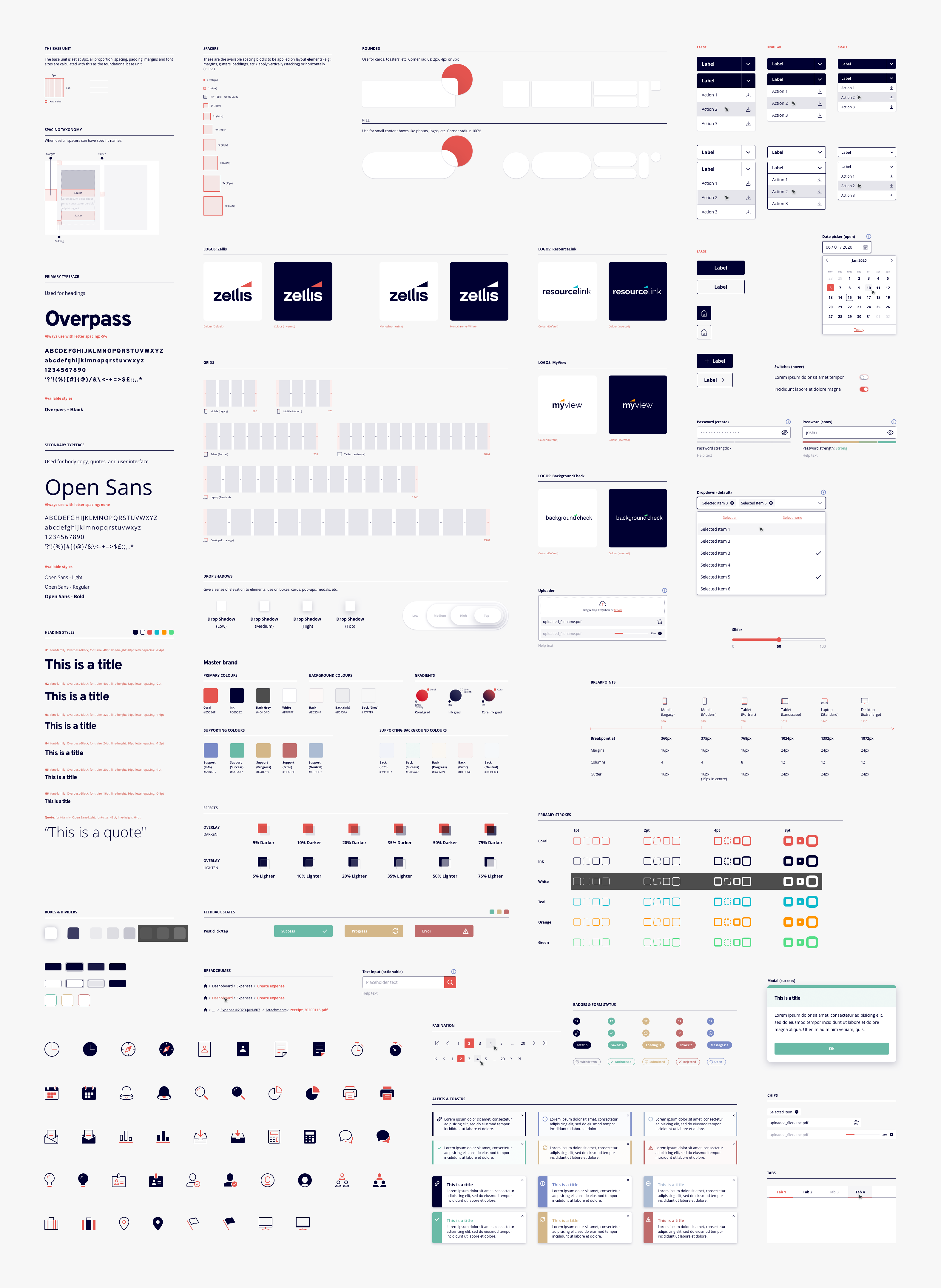 We then mocked up how their platform might look using the design system and visual creative direction. The different colour pairings communicate different products or services that Zellis offer.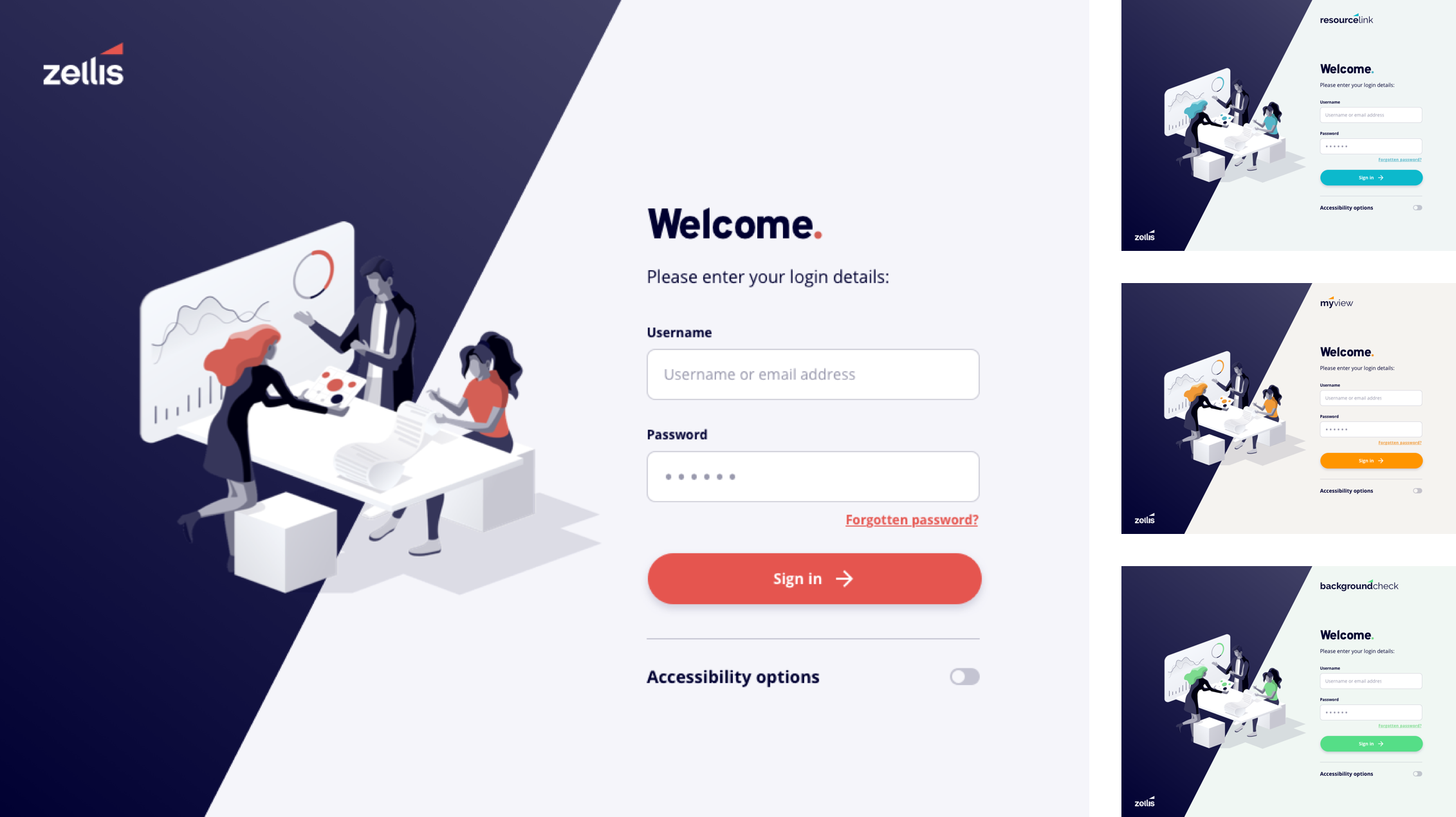 And finally, whilst we were crafting out the design system, we were defining a brand guidelines that tied everything into one place, visually showcasing the final tested design route, into a usable point of reference.